Service Areas
Roofing services are essential for homeowners and businesses alike, and finding a reliable roofing service contractor in the Virginias is key. Here at Frye Roofing, we help both homeowners and business owners with the best roofing services in the Virginias. From roofing installation to roofing repairs, we've got your needs covered. With more than 100 years of experience, our talented team ensures your roofing service will last. We will work with your insurance company for storm damage repairs, and we offer emergency roofing services in order to help mitigate damage to your roof. We are proud of every roofing service we do, and we treat your roof like our own. We work diligently to ensure your roof is one for the ages. To get started, give us a call with your questions and to get a free quote today!
Frye Roofing is proud to serve areas of Virginia and West Virginia. Our normal services areas include (but are not limited to) the following: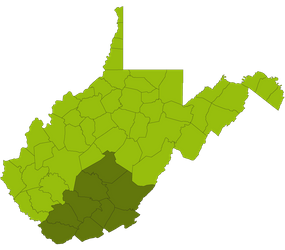 WEST VIRGINIA SERVICE AREA
NICHOLAS
Summersville - 26651
FAYETTE
Fayetteville - 25840
RALEIGH
Beckley - 25801
WYOMING
Mullens - 25882 | Oceana - 24870
MCDOWELL
Welch - 24801
MERCER
Princeton - 24739 | Bluefield - 24701
SUMMERS
Hinton - 25951
MONROE
Union - 24983
GREENBRIER
Lewisburg - 24901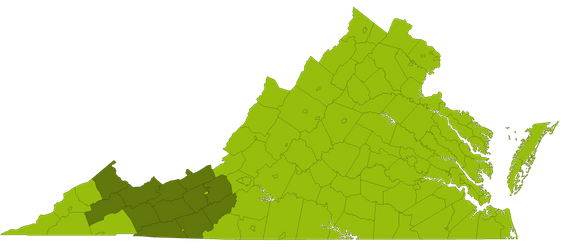 VIRGINIA SERVICE AREA
BUCHANAN
Hurley - 24620
RUSSELL
Lebenon - 24266
TAZEWELL
Bluefield - 24605 | Tazewell - 24651 | Richlands - 24641
SMYTH
Marion - 24354
BLAND
Bland - 24315
WYTHE
Wytheville - 24382
GRAYSON
Mouth of Wilson - 24363
CARROLL
Hillsville - 24343
FLOYD
Floyd - 24091
MONTGOMERY
Blacksburg - 24060
Christiansburg - 24073
Radford - 24141
PULASKI
Pulaski - 24301 | Dublin - 24084
GILES
Pembroke - 24136
What our customers are saying about our roofing repair services
Extremely Hard Working
"Quick, friendly, and professional service. Extremely hard working crew who worked from sun up until sun down to get the job completed. They have wonderful customer service and I would highly recommend this company!"
-Janna G
Highly Recommended
"Frye Roofing was great to deal with! Very professional right from the start. Talked with us about their recommendations for our project and got us an estimate right away. The materials arrived quickly along with a great crew who were polite, clean and considerate of our home and schedule. Our experience with Frye roofing was very good and we highly recommend them!"
- Alexandra L
First Class
"Frye Roofing is a first class roofing business. The estimate was accurate, began work when they said, and finished on time. They told me what they would do and, more importantly, what they would not do. I will use Frye Roofing again and would gladly recommend them."
-John F
Frye Roofing Offers Total Roof Management
From specification & design to the completed installation and ongoing maintenance of your home or business roof.